Summer vacations aren't just for families with kids. A summer getaway to Ontario is the perfect time to take a break and recharge your batteries for the second half of the year. NOMI Resort has everything you need to enjoy a mid-year escape from its on-site activities, proximity to area attractions, and luxurious accommodations. 
Create a Bucket List of Summer Activities in Ontario
Summers in Ontario tend to stay hot and humid, with temperatures ranging between 20 and 30 degrees celsius. This means plenty of time to explore the grounds of our Algonquin resort and the surrounding area.
Of course, the best way to end each summer night is on the shores of Lake Benoir around the fire pit, sharing stories about the day's adventures.
Make Memories on a Canadian Summer Getaway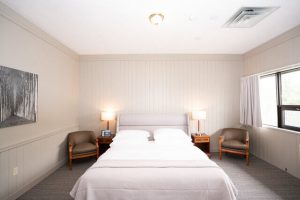 When you plan your summer vacation to Ontario's NOMI Resort, you are giving yourself a chance to take a breath and relax. Situated in the Canadian Shield, our resort offers visitors a tranquil place to call home. Whether you stay in one of our rooms or suites, you'll have all the amenities you need to make the most out of your stay. 
Our 40,000 square foot retreat features multiple on-site dining options, a Nespresso bar, and more. Email stay@nomiresort.com or call 1-888-765-9951 to speak with a helpful staff member about any questions you may have. When you're ready to reserve your escape, book your stay online.