Canada's Newest Wellness Community.
Nestled between South Algonquin's rich woodland and a far stretch of waterfront, NOMI Resort Club is a 40,000 square foot private getaway, where luxury residences and curated experiences allow members to enjoy each season to its fullest.
EXPLORE OUR ONE-OF-A-KIND TRAILS
Our trails have become our signature attraction and we are currently working on expanding our offerings, with a goal
of ultimately presenting a combined distance of 31km. Like us on Facebook for updates on the opening of our upcoming
Hoggs-Hollow, Kennaway, Core and Scorch Trails.
ALGONQUIN PROVINCIAL PARK
The southern gateway to Algonquin Park is only a short 3km drive away, while its core can be reached in less than 40 minutes. Here, in Canada's oldest provincial park, you can enjoy the rugged beauty and tranquility of nature that has inspired the likes of Tom Thomson and the Group of Seven to produce some of Canada's most iconic works of art. Among the most beautiful green spaces on earth, travelers return to Algonquin year after year to experience its inexhaustible wonders.

 The park offers explorers over 2,000 crystal clear lakes, 1200km of streams to canoe, 17 interpretive hiking trails through dense forests, challenging mountain-biking paths, excellent fishing, and endless opportunities to view wildlife. It's not unusual to encounter moose, deer, fox, beaver and a multitude of birds in their own environment. Bring your camera on your trip; you'll be amazed at the beauty that unfolds. (And be sure to walk the new Tall Pines Trail, a virgin forest of white pines reaching over 100ft high!)

In the heart of Algonquin you'll find the Visitor's Centre, which includes educational museums, an artists' gallery, book and gift store, cafeteria and film screenings on the history of the park. Outside there is a viewing platform with a spectacular panoramic view of the park. At the park's east gate is the Pioneer Logging Exhibit. A 1.5km walking path, the exhibit is a unique experience of the ingenuity of our fathers and fore fathers.

Meanwhile, at the west end of the park there is an art museum that regularly highlights work by members of the Group of Seven. We recommend the Sunday Creek Cafe at the art museum for a cappuccino!
READ MORE
HIGH FALLS
Just a five minute drive up the road from Nomi Resort you'll the High Falls Trail. The path follows an old road through a red pine plantation. It then becomes a footpath northward through hardwood forests on the west side of the York River. The trail connects with the first portage on the river, then branches off to a rock point north of High Falls. From the end of the trail, you have a view of the top of the rapids upstream of High Falls, and a view downstream from the falls!
CANOE OR KAYAK BY WATER
Explore the water edges, sight seeing or just relaxing.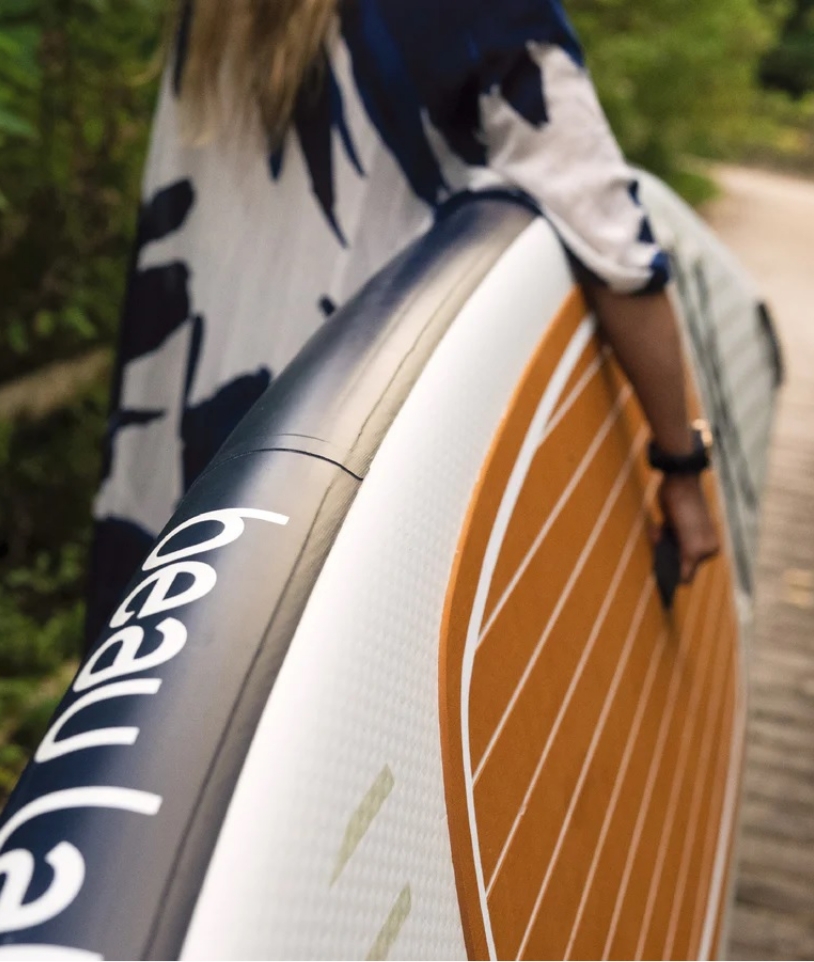 RESORT
ACTIVITIES
AND RENTALS
THE NEWPORT 11' ISUP PADDLEBOARD
PURCHASE NEWPORT $1,400 | Per Board
RENT $35 | Per Board
Named after the sailing capital of the world, The Newport by Beau Lake combines vintage yachting aesthetics with elegant fabrication to form an all-round iSUP with unmatched distinction. It boasts an industry-leading pressure rating at 15 PSI. The board is made from the highest quality marine-grade PVC. High-density drop stitch and triple-reinforced navy rails provide heightened durability and tear-resistance so you can paddle with more confidence wherever the water calls you.