When you're ready for a break from the realities of everyday life, make your escape to South Algonquin's rich woodlands. Found tucked away in the forests of the Canadian Shield sits NOMI Resort. Our Haliburton resort has everything you need to enjoy a relaxing getaway, including a tranquil spa and fantastic on-site activities. During your stay, be sure to leave time in your itinerary to explore the range of things to do in Algonquin Park.
A Checklist of Activities to Enjoy inside Algonquin Provincial Park
Our resort is found near the south entrance to Algonquin Provincial Park, making it a convenient spot to call home if you're looking to spend time inside the park. Not only is this area the first provincial park in Ontario, but it is also one of the largest. That means there is a diverse range of adventures to embark on.
No matter what adventures you decide on, keep your eyes open for the variety of animals that call the park home. If you need any equipment, stop by one of the local retailers. 
Recharge Your Batteries with an Ontario Escape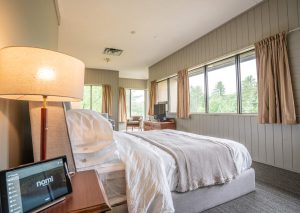 When you stay at NOMI Resort, you are just three kilometres away from exploring the world of things to do inside Algonquin Park. During your stay, be sure to leave time to explore ou 40,000 square foot private getaway and all it has to offer.
After a day filled with adventure, dine at our world-class restaurant before relaxing in your luxurious yet cozy room. Our spacious guest rooms provide you with the perfect place to unwind and rest up for another day. Email stay@nomiresort.com or call 1-888-765-9951 to learn more about our resort. You can also book online with the simple click of a button.