Sitting on 40,000 square feet of stunning Canadian landscape, NOMI Resort is the perfect slice of heaven for those looking to escape the hustle and bustle of life. Our Algonquin resort is surrounded by incredible examples of Mother Nature's work. From the hiking trails inside Algonquin Park to fishing spots out on the open water, this region of Ontario has it all. If you're looking for a memorable day trip or something to do on your way in or out of town, plan a visit to the Haliburton Forest and Wildlife Reserve.
What to Do and See on Your Visit
The main focus of this area is to serve as a sustainability-managed forest. Not only does the Haliburton Forest encompass 100,000 acres and 100 lakes, but it is also home to three operating sawmills and millions of trees. 
No matter what time of year you visit, there is no shortage of exciting and entertaining things to do.
Take in views of the forest on a

canopy tour

that can take up to four hours. This outing has four parts: a scenic drive, canoeing, a guided walk, and the actual canopy tour.

With

400 km of trails

, there is no shortage of paths to explore.

Download a map

, pick a trail and head out on your adventure.

If you're looking for more speed on your trail excursion, try

mountain biking

. There is 300 km of trails ranging from beginner to expert, so you can find something that fits your skill level.

Reserve your spot to visit the Siberian huskies that call the on-site kennel home. You'll get 30 minutes of up-close and personal affection from the pups.

When the forest turns into a winter wonderland, explore it on a guided

snowshoeing adventure

. The two-hour tour will have you exploring the culture, ecology, and heritage of the Highlands.

Another way to explore the snow-covered landscape is on

snowmobile trails

. To make this outing more accessible, Haliburton Forest offers

snowmobile rentals

. 

One of the most popular attractions in the forest is the

Wolf Centre

. View the wolves from one of two indoor observation areas, watch a documentary about these stunning animals, and take in the museum displays.
Most activities will require you to book ahead of time, so be sure to plan ahead. 
Enjoy a Peaceful but Memorable Ontario Getaway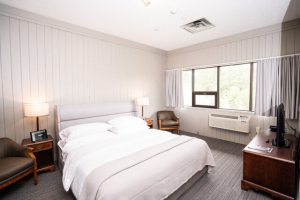 Whether you're looking to explore a top attraction like the Haliburton Forest and Wildlife Reserve or check out the trails right on our grounds, NOMI Resort is close to everything you could want on vacation. From the minute you arrive at our Haliburton resort, the stunning scenery will have you feeling at ease.
Staying with us on your next Ontario escape means you have your choice of phenomenal accommodations that are both luxurious and comfortable. Our resort also features incredible on-site amenities, like a spa and dining option. You can reserve your stay online, or contact us by calling 1-888-765-9951 or emailing stay@nomiresort.com to learn more.