Although there is plenty of summer vacation season left to go, fall will be here before you know it, and there's no better place for autumn escape than NOMI Resort. Located in picturesque South Alongquin, our Ontario resort provides you with a tranquil spot to escape life's distractions for a little while. Between our 40,000-square-foot private getaway and incredible nearby adventures, there's no shortage of places to take in breathtaking Algonquin fall colours.
Where to See the Best Fall Colours
The best time to witness leaves changing colours is mid-September to mid-October. However, the true peak time can vary due to several factors like moisture, daylight length, tree species, and temperature. The best way to check where the colour change is at is by looking at a fall foliage report. 
There are a number of spots to take in the foliage without having to leave the resort. Wander around our on-site trails for a leisurely fall afternoon or enjoy a fire on the shore of Lake Benoir while being surrounded by warm hues. You can also find the perfect spot somewhere on the grounds to curl up with a good book.
If you're looking to take in the fall colours throughout Algonquin, there are plenty of activities and spots throughout the area that fit the bill.
Wherever your adventures take you, be sure to have a fully charged phone or camera to capture the magnificent hues.
Recharge Your Batteries at NOMI Resort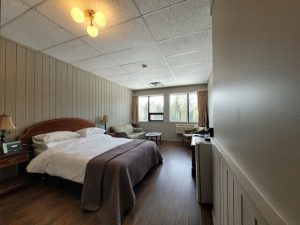 From the tranquillity of the lake to the beauty of the Algonquin fall colours, it's not hard to feel relaxed the moment you arrive at NOMI Resort for your autumn escape. As one of the top wellness retreats in Ontario, we strive to provide every guest with a rejuvenating experience.
Our luxury accommodations give you a relaxing escape to call home, while our range of amenities and curated experiences help you enjoy your stay to the fullest. Whether you're dining at Lands8fifty or getting a massage at Spa Derma, there are plenty of ways to pamper yourself. Book your stay online today. If you have any questions about our resort, call us at 1-888-765-9951 or email stay@nomiresort.com.