With its breathtaking waterfront views and woodland surrounding, it's not hard to feel at peace the minute you arrive at NOMI Resort. This resort near Algonquin Provincial Park is the perfect place to escape when you're looking for an escape from the craziness of life. Whether you're planning a getaway with friends or a romantic escape for two, there is plenty to discover throughout the surrounding area, including historical sites in Ontario.
A Checklist of Historic Sites and Museums near NOMI
One of the best parts of a vacation is exploring your destination. A great way to explore the area around our Algonquin resort is on adventures to nearby museums and historical sites. 
Learn about the contribution of Red Cross nurses at the Wilberforce Red Cross Outpost, which is about 20 minutes away from the resort. Declared a national historic site in 2003, this museum was the first Red Cross Outpost hospital in Ontario and the first of its kind in Haliburton County. 
Once the site of a lumber company, the North Hastings Heritage Museum showcases the community's history through artifacts. Explore the 10 galleries inside the museum that feature everything from Victorian costumes to early dentistry equipment.  
Make the roughly 40-minute drive to the Haliburton Highlands Museum for a unique day trip. Founded in 1967 as part of the Haliburton Highlands Pioneer Museum, the museum teaches visitors about early pioneers. Wander around the two floors of the main museum gallery or take a look inside the Reid House.  
If you're planning a visit to Algonquin Provincial Park, be sure to stop by Algonquin Logging Museum, which is found inside the park. Open from late June through mid-October, this museum tells the history of logging from early timber days to modern forestry management. 
Explore Everything That Surrounds NOMI Resort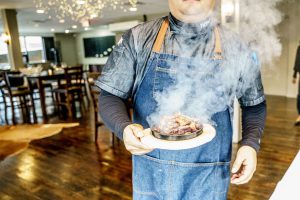 When staying at NOMI Resort in Ontario, you are just minutes away from countless adventures, including exploring historical sites. Whether visiting a nearby museum or enjoying the hiking trails found on-site, there is no shortage of activities and attractions to enjoy near our resort.
Each of our rooms and suites was designed to provide guests with the most relaxing space possible. After a delicious meal at Lands8fify, relax under the star-filled sky as you gather around our fire pit before turning in for the night. Book your stay online today. If you have any questions, speak with one of our staff members by calling 1-888-765-9951 or emailing stay@nomiresort.com.